Happy New Year!! Wish you good health and may all your wishes come true. The most important thing in the New Year is to get the whole family together and have the reunion dinner. As for the delicious food, it needs to be paired with fine wines and share the happiness with your family during this festive day. The following are some wines that are suitable for family meals. Pick one and bring them back to your home and celebrate New Year with your family!
新年快樂!祝大家身體健康,心想事成!新一年最緊要就係一家人齊齊整整食團年飯。而美食當前就梗係要配返支美酒,同屋企人一齊過呢個喜慶日子啦!以下係一啲適合一家人食飯時配嘅葡萄酒,快啲揀返支帶返屋企,開開心心過肥年!
Doudet Naudin Pinot Noir VDF 2020
杜得‧諾丁 黑皮諾 紅酒
The wine has a dark ruby colour, rich and full aroma, mixed with floral aromas. Intense, long and harmonious on the palate.In addition to sharing with family, it is suitable for gifts too, giving it to your relatives during New Year's greetings must be a good choice!
酒帶深紅寶石色,具豐富又充實嘅香味,混合著花香。 味道濃郁、悠長,口感和諧。除咗同屋企人共享,仲適合送禮用,係拜年嘅時候送俾親戚就啱哂啦!
Grand Reyne 2019 
法國波爾多金龍船 紅酒
It has a nice plum colour, along with an elegant nose of fresh ripe raspberry and black cherry. The mouth is supple, silky and delicately mingles fruity and roasted aromas. Pair it with Chinese puddings, such as coconut cream pudding or turnip pudding, for a unique flavour!
呢款酒具有布冧嘅紅色,帶有優雅嘅香氣。 口感柔順同絲滑,微妙地混合住果香和烤香。搭配賀年糕點,好似年糕或者蘿蔔糕等,亦別有一番風味!
Now there are wines, but don't know what to go with the Chinese New Year puddings? Don't worry! I'm here! The following are some suggestions for the combination of Chinese New Year puddings and wines. If you are interested, please call your aunts, uncles, cousins, grandparents, nephews…try together!
洒就有,但唔知點樣同啲糕點配搭?唔洗驚!幫緊你!幫緊你!以下係一啲賀年糕點同葡萄酒嘅配搭建議,有興趣就叫埋啲姨媽姑姐,三姑六婆一齊試啦!
年糕與麗絲玲 Coconut Cream Pudding with Riesling Alsace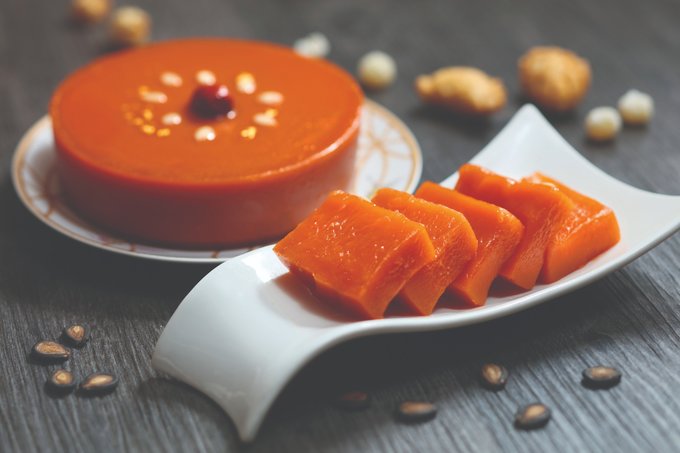 Traditional coconut cream pudding, crispy on the outside but soft and sweet on the inside, with coconut aroma, it is recommended to pair with slightly sour Riesling Alsace. When it is paired with pudding, it can reduce the sweetness of pudding, and at the same time bring out more fruity aromas, which is very suitable.
傳統嘅椰汁年糕,外脆內軟而且清甜同帶椰子香,提議配搭略帶酸味嘅麗絲玲葡萄酒。以麗絲玲配上年糕可以減輕甜膩感,同時帶出更多嘅果香,非常合拍。
蘿蔔糕與橙酒 Turnip Pudding with Orange Wine
The cured meat and turnip pudding is fragrant and can be paired with white wine or red wine. If you want something special, you can match it with Italian organic orange wine. It is uniquely styled, served with a savoury pan-fried turnip pudding , which accentuates the aroma of preserved meat and adds orange blossom, which also makes the wine more fruity.
臘味蘿蔔糕非常香口,一般配白酒或者紅酒都可以,若果想特別啲,可以同意大利有機橙酒配襯。橙酒風格獨特,配上香口嘅煎蘿蔔糕,令到臘味嘅香味更加突出,並且加添咗啲橙花香,亦令葡萄酒可以釋放更多果香。
芋頭糕與紅酒 Taro pudding with Red Wine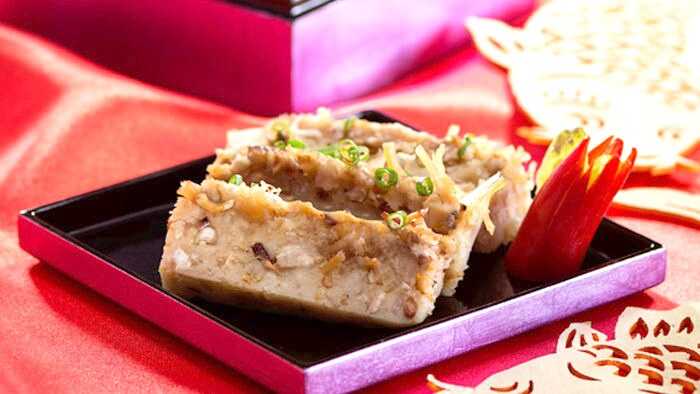 Another traditional pudding, the preserved taro pudding, is relatively richer and goes well with red wine. Why not try wines from the Rhône Valley? Paired with the preserved taro pudding, the oil in it makes the tannins of the red wine more rounded and the fruity aroma more prominent, and the red wine can also enhance the umami of the preserved meat and complement each other.
另一個傳統糕點,臘味芋頭糕相對更加濃郁,同紅酒都好夾。咁就不如試試隆河谷的葡萄酒?配上臘味芋頭糕,當中嘅油分令紅酒嘅單寧更圓潤,果香更突出,而且紅酒亦能夠提升臘味嘅鮮味,兩者互相輝映。